Continue to check back here for updates and resources
4/1/20
*Diann Kitamura, Superintendent of Santa Rosa City Schools, has announced Distance Learning will continue for the rest of this current school year.  Read the statement here.
*A message about Aftershock:
Dear Aftershock Family,

We know you are anxious to get the full lineup for Aftershock 2020. We are mindful of the ever-changing situation with COVID-19 and are closely monitoring the recommendations from the CDC, WHO, federal, state and local officials. At this time, there is no reason to believe that Aftershock 2020 will be affected. However, in these uncertain times, it doesn't feel right to announce the complete lineup just quite yet.  As soon as the time is right, we will be sharing the amazing full lineup with you.

We are also aware of the financial strain many of you are going through so we have worked with Front Gate Ticketing to make $1 layaway deposits available, as well as defer all April layaway payments for those that are on our payment plan.

This means that you while you have already secured your passes to Aftershock Festival, you can tell your friends who've wanted to join you to lock in a weekend pass for only $1 down per pass*! Forward along this email, so your friends can join you in October!

Thank you for your patience, we look forward to seeing you this October in Sacramento.

Be safe, stay healthy, and keep rockin'.

With Love – Team DWP
*Here's how and why to clean your phone
3/31/20
Shelter in Place extended through May 3rd
3/30/20
More tests coming (and they're quicker)
In need of a job?  Local companies hiring!!
Keep your Zoom meetings safe with these tips
3/29/20
Trump extends social distancing guidelines to April 30
3/26/20
U.S. now has more confirmed cases of Coronavirus than any other nation
3/25/20
Mystic Theatre in Petaluma has postponed all shows through April
Santa Rosa City Schools Superintendant issues statement about the extension of distance learning through May 1, 2020
3/24/20
White House, Senate reach deal on $2 trillion coronavirus spending bill.  See how it will affect you
Summer Olympics postponed until 2021
3/23/20
Sonoma County parks will close beginning Tuesday, March 24 at midnight
Applause for these landlords who are helping their tenants with rent
Soccer players across the nation team up to PASS THE MESSAGE
3/22/20
Santa Rosa City Schools announce they are providing meals for kids/teens and more resources starting Monday, March 23 – Click HERE for more
REFB has a "food finder" for produce, groceries, senior baskets, hot meals more near you. Find it HERE
3/20/20
New rules allow business to offer to-go and delivery for alcoholic beverages
There's a new tax date!  You get 3 more months!
Here is a list of essential businesses OPEN at Montgomery Village who need your support
If you are co-quarantined or forced to stay in place with someone who is abusing you and/or your loved ones, there are resources available to help you. If you would like to speak to a member in the Behavioral Health department please call (707) 521-4550. Get more information here: Guidance_COVID19_abuse
3/19/2020
Gov. Newsom calls for statewide shelter in place
For those of you that feel the overwhelming need to help, here's a great list from the Press Democrat
A working list of restaurants open for take-out, curb-side pickup, & delivery
Special Take-out menu with family options from Victory House
Here is a list of Virtual School Activities. A collection of sites to live webcams, virtual tours/trips, and other miscellaneous fun academic sites.
3/18/2020
2:40pm – BottleRock Napa Valley issued the following statement: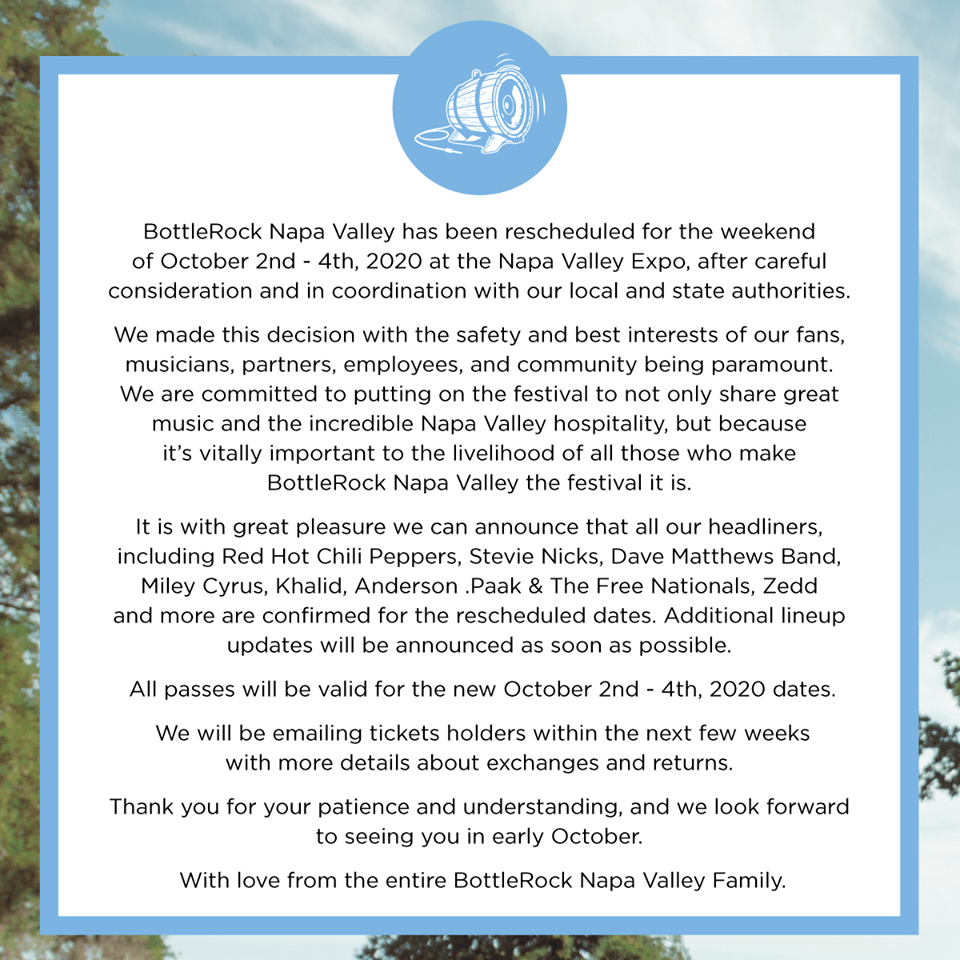 3/17/20
NY Pie open for takeout and delivery.  Call (707) 526-9743 or visit the website