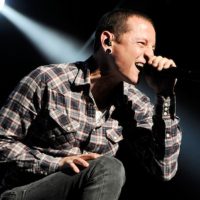 July 20, 2017 was a shocking day for Linkin Park fans around the world. Lead singer Chester Bennington had taken his own life at his home in Palos Verdes Estates, California.
Post of sorrow and grievance swept social media from family, friends, fans, bandmates and fellow artist, everyone in search of how to honor the legacy of the 41-year-old rock star.
News began to spread about a benfit concert hosted by the remaining members of Linkin Park.
Artist including Blink-182, Machine Gun Kelly, Gavin Rossdale, Alanis Morissette signed on to help honor the life of Bennington.
Tickets sold out quickly, but the band made sure that fans everywhere could be a part of the evening by live streaming the three hour show on YouTube, check it out below.
RIP Chester Bennington.
If you or anyone you know is suffering from depression/suicidal thoughts please call the National Suicide Prevention Lifeline at 1-800-273-8255