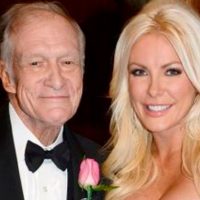 Hugh Hefner passed away at 91 on Wednesday, September 27th. He died of natural causes at the Playboy Mansion.
Of course the death of this infamous magazine mogul came with a lot of controversy.
Starting with his wife of five years, Crystal Harris, who is thirty years younger than Hefner. It was initially reported that she was written out of the will, leaving his fortune to his four children Christie, 64, David, 62, Marston, 27, and Cooper, 26.
Although, TMZ is reporting that Hefner had a "specific" estate plan for Crystal. He left her a 5,900 square foot, four bedroom, five bathroom home in the Hollywood Hills. But what is a home without some money to go along with it?
Don't worry Hugh also left her $5 million in cash.
Hugh also spent $75,000 to be laid to rest next to Marilyn Monroe, who graced the first cover of Playboy Magazine. What is even stranger is that he purchased the plot 25 years ago along with $8,000 of nude photos of Monroe from before she was a well-known actress.
Hefner was laid to rest on Saturday, September 30th with only his widow and four kids in attendance.
What is interesting about this is if you know anything about Hugh Hefner it is that he was quite extravagant, so having a funeral so small, without any former bunnies (besides his wife), or his celebrity friends seems out of character.
RIP Hugh Hefner.