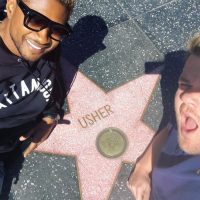 Our favorite Middle School love Usher join James Corden for another amazing Carpool Karaoke and can I just say Ushers definitely still got it!!!
They kicked it off with the dance song that will never die "Yeah" then headed to a parking lot so Usher could teach James some important life lessons like the how to walk with "swag."
James was also not afraid to call Usher out for not being a "real" vegan and the lyrics to the song "I don't mind." What he failed to call him out for was his new herpes allegations, but that could have got real awkward real fast.
As they were driving they made a few more pit stops to clean Usher's star on the Walk  of Fame and help push a random man's car.
Singing, dancing and hard labor, this was definitely an eventful Carpool Karaoke! See for yourself below!!